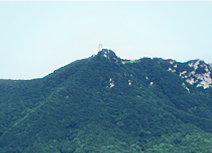 Manggyeongdae Terrace
Directions

About 1 hour and 30 minutes from Exit 3, Gwacheon Station
There is a stone foundation at the top of Cheonggysesan Mountain. This foundation is called Manggyeongdae. It was called Manggyeongdae because it is said that visitors can enjoy a good view when they climb it, but Jo Yun, a loyalist of the Goryeo Dynasty, went up to this place to relieve pain from a ruined country, in denial of the founding of the Joseon Dynasty. The meaning of the name "Manggyeongdae" changed as in "one can see Seoul" because he could see the entirety of Seoul at a glance. Then, the people who respected Jo Yun, who was loyal to the old country, built a hut on the top of the mountain, and the site is known today as Manggyeongdae Terrace.
Seonbawi Rock
Directions

About 1 hour and 30 minutes from Exit 3, Gwacheon Station
The name "Seonbawi" is derived from the fact that, in the old days, when a large rock stood in the middle of a clear stream, it was called "standing rock." Seonbawi, which was about 2.5 to 3 meters high, was a rest area for villagers, and a sacred being praying for a son. It is also called Ipseok or Ipam, and although the original Seonbawi is gone, it has been restored, and the surrounding area is decorated, following the wishes of the villagers.
Namtaeryeong
Directions

15-minute walk from Exit 2, Namtaeryeong Station in the direction of Gwacheon
Namtaeryeong, a pass that crosses Gwacheon and Seoul, was the only walking path that connects Hanyang and Samnam. Namtaeryeong, which was a route for local products and a gateway for scholars traveling to Hanyang to take the government examination, was also called "Yeou Gogae (Fox Ridge)" because bandits stealing from passersby looked like something a fox would do. Since 50 passersby gathered together and crossed the pass after they were escorted by the royal forces, it was also called "Shinemi Gogae (50 Ridge)." Currently, it has been restored as the starting point of Gwanaksan Mountain Dulle-gil and Samnam-gil in Gyeonggi-do, so that anyone could pass through.